Yan, Lianke 1958-
Most widely held works about Lianke Yan
more
fewer
Most widely held works by Lianke Yan
Dream of Ding Village
by
Lianke Yan
( Book )
52 editions published between
2005
and 2019 in 8 languages and held by 1,039 WorldCat member libraries worldwide
A previously banned work based on a true scandal finds an impoverished village targeted by a blood-selling operation that leads to a catastrophic outbreak of AIDS and decimates an entire community
Lenin's kisses
by
Lianke Yan
( Book )
58 editions published between
2003
and 2017 in 8 languages and held by 891 WorldCat member libraries worldwide
Yan boldly plunges into the psychic gap between China's decades-old conditioned response to communist doctrine and its redefinition of itself as a capitalist power, creating with bold, carnivalesque strokes a heartbreaking story of greed, corruption, and the dangers of utopia
The four books
by
Lianke Yan
( Book )
22 editions published between
2015
and 2016 in
English
and held by 799 WorldCat member libraries worldwide
In the ninety-ninth district of a sprawling reeducation compound, freethinking artists and academics are detained to strengthen their loyalty to Communist ideologies. They are forced to carry out grueling physical work and are encouraged to inform on each other for dissident behavior. The prize: winning the chance at freedom. They're overseen by preadolescent supervisor, the Child, who delights in reward systems and excessive punishments. When agricultural and industrial production quotas are raised to an unattainable level, the ninety-ninth district dissolves into lawlessness. And then, as inclement weather and famine set in, they are abandoned by the regime and left alone to survive
Serve the people!
by
Lianke Yan
( Book )
41 editions published between
2004
and 2015 in 8 languages and held by 774 WorldCat member libraries worldwide
Set in 1967, at the peak of the Mao cult, Serve the People! is a beautifully told, wickedly daring story about the forbidden love affair between Liu Lian, the young, pretty wife of a powerful Division Commander in Communist China, and her household's lowly servant, Wu Dawang. When Liu Lian establishes a rule for her orderly that he is to attend to her needs whenever the household's wooden Serve the People! sign is removed from its usual place, the orderly vows to obey. What follows is a remarkable love story and a profound and deliciously comic satire on Mao's famous slogan and the political and sexual taboos of his regime. As life is breathed into the illicit sexual affair, Yan Lianke brilliantly captures how the Model Soldier Wu Dawang becomes an eager collaborator with the restless and demanding Liu Lian, their actions inspired by primitive passions that they are only just discovering. Originally banned in China, and the first work from Yan Lianke to be translated into English, Serve the People! brings us the debut of one of the most important authors writing from inside China today
The day the sun died : a novel
by
Lianke Yan
( Book )
19 editions published between
2015
and 2019 in
English
and
Chinese
and held by 727 WorldCat member libraries worldwide
"Yan Lianke has secured his place as contemporary China's most essential and daring novelist, "with his superlative gifts for storytelling and penetrating eye for truth" (New York Times Book Review). His newest novel, The Day the Sun Died--winner of the Dream of the Red Chamber Award, one of the most prestigious honors for Chinese-language novels--is a haunting story of a town caught in a waking nightmare. In a little village nestled in the Balou mountains, fourteen-year-old Li Niannian and his parents run a funeral parlor. One evening, he notices a strange occurrence. Instead of preparing for bed, more and more neighbors appear in the streets and fields, carrying on with their daily business as if the sun hadn't already set. Li Niannian watches, mystified. As hundreds of residents are found dreamwalking, they act out the desires they've suppressed during waking hours. Before long, the community devolves into chaos, and it's up to Li Niannian and his parents to save the town before sunrise. Set over the course of one increasingly bizarre night, The Day the Sun Died is a propulsive, darkly sinister tale set against the national optimism of the Chinese dream"--
The explosion chronicles
by
Lianke Yan
( Book )
28 editions published between
2013
and 2018 in 5 languages and held by 704 WorldCat member libraries worldwide
"Man Booker International finalist Yan Lianke has been lauded for his imaginative satire and insightful cultural critique as "one of China's greatest living authors" (Guardian). His internationally bestselling new novel, The Explosion Chronicles, follows the excessive expansion of a rural community from small village to megalopolis. With the Yi River on one side and the Balou Mountains on the other, the village of Explosion was founded more than a millennium ago by refugees fleeing a seismic volcanic eruption. But in the post-Mao era the name takes on a new significance as the community grows explosively from a small village to a vast metropolis. Behind this rapid expansion are members of the community's three major families, including the four Kong brothers; Zhu Ying, the daughter of the former village chief; and Cheng Qing, who starts out as a secretary and goes on to become a powerful political and business figure. Linked together by a complex web of loyalty, betrayal, desire, and ambition, these figures are the driving force behind their hometown's transformation into an urban superpower. Brimming with absurdity, intelligence, and wit, The Explosion Chronicles considers the high stakes of passion and power, the consequences of corruption and greed, the polarizing dynamics of love and hate between families, as well as the seemingly boundless excesses of capitalist culture"--
The years, months, days : two novellas
by
Lianke Yan
( Book )
36 editions published between
2002
and 2018 in 4 languages and held by 618 WorldCat member libraries worldwide
Yan Lianke"Chinas most feted and most banned author" (Financial Times)is a master of imaginative satire, and his prize-winning works have been published around the world to the highest honors. Now, his two most acclaimed novellas are collected here in a single volumemasterfully crafted stories that explore the sacrifices made for family, the driving will to survive, and the longing to leave behind a personal legacy
Ri guang liu nian
by
Lianke Yan
( Book )
27 editions published between
1998
and 2018 in
Chinese
and
French
and held by 237 WorldCat member libraries worldwide
Ben shu shi yi ge pin kun xiao shan cun mai xiang xian dai hua de yu yan. ji dai ren jian ku zhuo jue de bei zhuang kang zheng, yi duan sheng si bu yu de ai qing gu shi, gou cheng le yi bu du hou neng zai ni xin zhong xian qi tao tian ju lang de jing shi zhi zuo he min zu shi shi
Feng ya song
by
Lianke Yan
( Book )
14 editions published between
2008
and 2016 in
Chinese
and held by 170 WorldCat member libraries worldwide
A hard-working college professor returned home early one day with a completed manuscript to show his wife. When he arrived there, however, he found his wife in bed with his boss. Devastated and delirious, he lost his position. The abuse of power and corruption are portrayed in this provocative novel by the author of "Serve the People"
Jian ying ru shui
by
Lianke Yan
( Book )
20 editions published between
2001
and 2017 in
Chinese
and
Japanese
and held by 161 WorldCat member libraries worldwide
Ben shu shi yi ben zhongguo dang dai chang pian xiao shuo. "Jian ying ru shui" shi wen hua da ge ming qian jian liang ge zao fan pai de dou zheng shi he luo man shi. Fu yuan jun ren Gap aijun hui dao jia xiang, Song dai li xue da ru Cheng Yi, Cheng Hao de gu li Chenggang zhen nao ge ming, yu dang di fu nu Xia Hongmei yi jian zhong qing. Liang ren bu gu yi hun shen fen, yan ru feng kuang de re lian, tong shi ta men de ge ming da ye ye hong honh huo huo zhan kai. Gao, Xia de duo quan dou zheng wu suo bu yong qi ji, dan liang ren de zhen qing ye yi yang jing tian dong di. Ta men de xing ai guan xi hua yang bai chu, wu bu he ge ming de cheng gong he shi bai hu xiang hui ying. Xiao shuo gao chao, Gao aijun wei le yi zu xiang si zhi ku, jing ran wa tong le yi tiao di dao, hao yu Xia Hongmei ye ye you hui. Ta men you le ming fu qi shi de di xia qing
more
fewer
Audience Level
0

1
Kids
General
Special
Audience level: 0.50 (from 0.31 for The day th ... to 0.86 for The explos ...)
Related Identities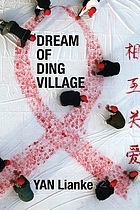 Covers
Alternative Names
Diêm, Liên Hoa 1958-

Diêm Liên Khoa Là một nhà văn Trung Quốc chuyên viết tiểu thuyết. Ông chuyên viết tác phẩm về mảng tối trong xã hội, chính trị Trung Quốc (Có phần hơi tự nhục)

En, Renka

Jen Lien-Kche

Jen, Lien-kche 1958-

Jen Lien-Kche čínský spisovatel

Lianke, Yan

Lianke, Yan 1958-

Lien-kʿo, Yen 1958-

Yan, Lian ke

Yan, Lian ke, 1958-

Yan , Lianke

Yan Lianke 1958-....

Yan Lianke Chinees schrijver

Yan Lianke Chinese novelist and satirist

Yan Lianke chinesischer Schriftsteller

Yan Lianke écrivain chinois

Yan Lianke escritor chino

Yan Lianke scrittore cinese

Yen, Lien-k'o 1958-

Yen, Lien-k'o

Yen, Lien-kʿo 1958-

Yen, Ryenkeo

Yen, Ryenkeo 1958-

Янь Лянькэ

יאן ליין-קה

ין, לין-קה, 1958-

ליין-קה, יאן, 1958-

לין-קה, ין, 1958-

يان ليانكه

یان لیکن

യെൻ ലിയെങ്കെ

염련과 1958-

염연과 1958-

옌롄커 중국의 소설가

エン, レンカ

李春艳.

阎, 连科

阎 连科 1958-....

阎连科

阎连科 1958-...

Languages