Rockman, Alexis 1962-
Most widely held works about Alexis Rockman
more
fewer
Most widely held works by Alexis Rockman
Concrete jungle
( Book )
5 editions published in
1996
in
English
and held by 163 WorldCat member libraries worldwide
In the late 19th century, Eugene Scheifflin, prosperous New York drug manufacturer, amateur ornithologist and Shakespeare enthusiast, had a plan: to inventory, import and naturalize every bird mentioned by the Bard. Unfortunately for North American farmers and indigenous birds, Henry IV, Part 1 contains a reference to the starling. In 1890, Scheifflin released 40 pairs of European starlings into Central Park. A year later, the birds had already colonized Staten Island. It took the starlings just 55 years to establish themselves from coast to coast and north to Alaska, decimating many native species, including the bluebird. Concrete Jungle examines this story and myriad other examples of the unpredictable mutations and side-effects that have taken place as urban environments and Nature meet and sometimes collide
Natural wonders : the sublime in contemporary art : thirteen artists explore nature's limits
( Book )
2 editions published in
2018
in
English
and held by 108 WorldCat member libraries worldwide
"Accompanying an exhibition of the same name, 'Natural Wonders' showcases the work of thirteen celebrated American artists who offer multimedia representations of the natural world and the impact of human intervention, revealing fresh and evolving guises of sublimity for the twenty-first century. 'Natural Wonders' spotlights works by Maya Lin, Roxy Pain, Diana Thater, Dustin Yellin, and others, that probe the porous border between the natural and artificial realms -- between the wild and cultivated. This timely and relevant exhibitino at the Brandywine River Museum of Art in Chadds Ford, PA, highlights nature's splendor while at the same time hinting at its more disquieting facets. Through an engaging mix of installations, video, dioramas, photography, and sculpture, the works create an experience of the neo-sublime, mixing the beautiful and the unsettling to produce awe in the beholder. Ultimately this assemblage encourages us to be more attentive to our natural surroundings, in both their benign and baneful aspects. These enticing works also address pressing issues such as habitat loss, environmental toxins, bioengineering, and increasing alienation from nature, offering both diagnosis and prescription for our cultural condition. The books introductory essays provides a broad cultural and historical context for the contemporary work, complemented by statements from the exhibited artists and a reflective dialogue between environmentally minded artists Mark Dion and Alexis Rockman."
Alexis Rockman : the Great Lakes cycle
by
Dana Friis-Hansen
( Book )
2 editions published in
2018
in
Undetermined
and
English
and held by 88 WorldCat member libraries worldwide
"Alexis Rockman synthesizes human history, natural science, and landscape painting to create visual vistas that reveal unexpected relationships across time and space. Since the mid-1980s, Rockman has created a dramatic and distinct body of epic-scale paintings and works on paper that draw from his deft artistic skills, rich visual inventiveness, deep scientific awareness, broad art historical knowledge, and passionate concern for the earth's ecological future."
Alexis Rockman : New Mexico field drawings
( Book )
2 editions published in
2018
in
English
and held by 36 WorldCat member libraries worldwide
New Mexico Field Drawings is the outcome of a 2017 residency by New York-based artist Alexis Rockman (born 1962) at SITE Santa Fe, and accompanies a 2017-18 presentation of the work at SITE Santa Fe
Carnivorous nights : on the trail of the Tasmanian tiger
by
Margaret Mittelbach
( )
1 edition published in
2009
in
English
and held by 27 WorldCat member libraries worldwide
Packing an off-kilter sense of humor and keen scientific minds, authors Margaret Mittelbach and Michael Crewdson take off with renowned artist Alexis Rockman on a postmodern safari. Their mission' Tracking down the elusive Tasmanian tiger. This mysterious, striped predator was once the world's largest carnivorous marsupial. It had a pouch like a kangaroo and a jaw that opened impossibly wide to reveal terrifying choppers. Tragically, this rare and powerful animal was hunted into extinction in the early part of the twentieth century. Or was it' Journeying first to the Australian mainland and then south to the wild island of Tasmania, these young naturalists brave a series of bizarre misadventures and uproarious wildlife encounters in their obsessive search for the long-lost beast. From an ancient cave featuring an aboriginal painting of the tiger to a lab in Sydney where maverick scientists are trying to resurrect the animal through cloning, this intrepid trio comes face-to-face with blood-sucking land leeches and venomous bull ants, a misbehaving wallaby who invades their motel room, and a crew of flesh-eating, bone-crunching Tasmanian devils gorging on roadkill. They bond with trappers, bushwackers, and wildlife experts who refuse to abandon the tiger hunt, despite the paucity of evidence. Sifting through local myths, bar-room banter, and historical accounts, these environmental detectives sweep readers into a world where platypus' swim, kangaroos roam, and a large predator with a pouch was'or perhaps still is'queen of the jungle. Filled with Alexis Rockman's stunning drawings of flora and fauna'-made from soil, wombat scat, and the artist's own blood'Carnivorous Nights is a hip and hilarious account of an unhinged safari, as well as a fascinating portrayal of a wildly unique part of the world. From the Hardcover edition
Gray Foy : drawings 1941-1975
by
Gray Foy
( Book )
1 edition published in
2018
in
English
and held by 26 WorldCat member libraries worldwide
The book showcases the unique and mesmerizing art of mid-century American artist, Gray Foy. Long eclipsed from public and private view, this large cache of drawings was discovered after Foy's death, mostly hidden in drawers and closets. The five-year effort to prepare the astonishing discovery for publication culminates in this stunning volume of drawings whose rare beauty will appeal to cognoscenti and general readers alike.0Born in 1922 in Dallas, Foy spent his youth in Los Angeles and went on to study art at Southern Methodist University in Texas and Columbia University in New York. His drawings appeared in numerous group exhibitions (including several Whitney Annuals), and he received a Guggenheim Fellowship. Foy?s drawings are executed with a draftsmanship whose meticulously detailed qualities challenge the viewer?s visual acuity. His early work, related to both Magic Realism and Surrealism, conveys affinities with artists as varied as Salvador Dalí and M.C. Escher, and is characterized by complexly interwoven compositions in which human figures, flora and fauna, and terrains and interiors morph into vivid dreamscapes. His mature drawings focus on botanical and geological forms in the process of transformation, metaphorically suggestive of the passage of time and the mutability of perception
Concrete jungle
by
Mark Dion
( Book )
1 edition published in
1993
in
English
and held by 9 WorldCat member libraries worldwide
Future evolution
by
Peter D Ward
( Book )
4 editions published in
2001
in
English
and held by 5 WorldCat member libraries worldwide
Everyone wonders what tomorrow holds, but what will the real future look like? Not decades or even hundreds of years from now, but thousands or millions of years into the future. Will our species change radically? Or will we become builders of the next dominant intelligence on Earth - the machine? These and other seemingly fantastic scenarios are the very possible realities explored in Peter Ward's Future Evolution, a penetrating look at what might come next in the history of the planet. Looking to the past for clues about the future, Ward describes how the main catalyst for evolutionary change has historically been mass extinction. While many scientist direly predict that humanity will eventually create such a situation, Ward argues that one is already well underway--the extinction of large mammals--and that a new Age of Humanity is coming that will radically revise the diversity of life on Earth. Finally, Ward examines the question of human extinction and reaches the startling conclusion that the likeliest scenario is not our imminent demise but long term survival--perhaps reaching as far as the death of the Sun! Full of Alexis Rockman's breathtaking color images of what animals, plants and other organisms might look like thousands and millions of years from now, Future Evolution takes readers on an incredible journey through time from the deep past into the far future
more
fewer
Audience Level
0

1
Kids
General
Special
Audience level: 0.55 (from 0.23 for Future evo ... to 0.93 for Alexis Roc ...)
Associated Subjects
Animals
Animals in art
Art, American
Art, American--Themes, motives
Art, Modern
Arts, Modern
Biology in art
Bioluminescence
Botany
Braine, Bob
Dead in art
Dion, Mark,
Diorama
Drawing, American
Ecology
Ecology in art
Environment (Art)
Environmental degradation
Environmentalism
Evolution (Biology)
Fantasy in art
Gouache painting
Grand Rapids Art Museum
Great Lakes
Great Lakes Region
Insects
Landscape painting, American
Male artists
Marine animals in art
Monsters in art
Mutation (Biology) in art
Natural history
Natural history in art
Nature (Aesthetics)
Nature and civilization
Nature--Effect of human beings on
Nature in art
New York (State)--New York
Painting, American
Painting--Technique
Rockman, Alexis,
Sublime, The, in art
Tasmania
Themes, motives
Thylacine
Travel
United States
Wallace, Alfred Russel,
Weather in art
Zoology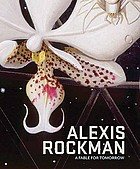 Covers
Alternative Names
Alexis Rockman

Alexis Rockman American contemporary artist

Alexis Rockman Amerikaans kunstschilder

Alexis Rockman pintor estauxunidense

Languages